How to Block Emails on AOL?
---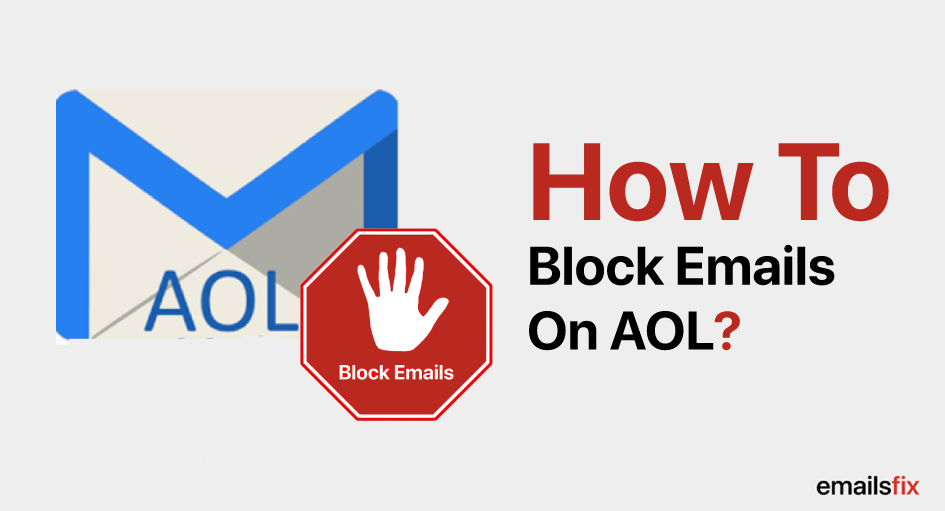 Blocking all the unnecessary emails from your AOL account is essential to keep things organized in your professional life and accomplishing daily goals. An unorganized inbox looks haywire, thus consumes a lot of time to find the important data at the time required. No worries, read below the article in detail and find a detailed answer for this "how to block emails on AOL?" question.

We all have that moment when we had mistakenly emailed irrelevant information to the person not concerned with that because our AOL inbox is piled with unwanted emails. Sorting the unwanted emails can be a difficult task because you have to do it manually and a one day miss would make a difference in how you operate your AOL inbox. Why not choose something which is long-term? Something that could be sorted well before it arrives in your inbox.
Steps to block an email in AOL
AOL emails feature a spam filter that cuts all the junk emails and gives you the communications related to your business. Not just that, sometimes you also want to axe a certain email address or a whole unnecessary domain that is bothering with the messages you don't need at all. We will help you create a list that will provide an answer to your "how to block emails on AOL?" question, either from the AOL website or the AOL desktop application.
1. Log on to your AOL Mail account from your Web browser or through the AOL desktop application.

2. Click 'Options' on the toolbar and then select 'AOL Mail Settings'. Select 'Spam Setting' in the sidebar.
3. Select 'Spam Controls' from the 'Settings' menu and then click 'Edit Spam Controls'.
4. Modify the 'Sender Filter' setting to 'Block mails from Addresses I specify' if you want to bar messages from the particular addresses or domain names.

5. Insert email addresses into the first field. You have to add '+' after entering the first addresses. In case you are using a web browser, you need to put the whole email address.

6. Blocking unwanted emails on AOL is another thing you can do by just blocking all mail from the current email provider. In case, you want to block all the emails from your previous employer, enter 'domain name' into the field.

7. "Block Mail Containing Specific Words or Phrases" box is another option to block someone on AOL. It will filter all your emails by content, and then add the words or phrases, it can be 'name of the person' or any relatable content. AOL automatically blocks all your mail containing one of the words or phrases for your filter.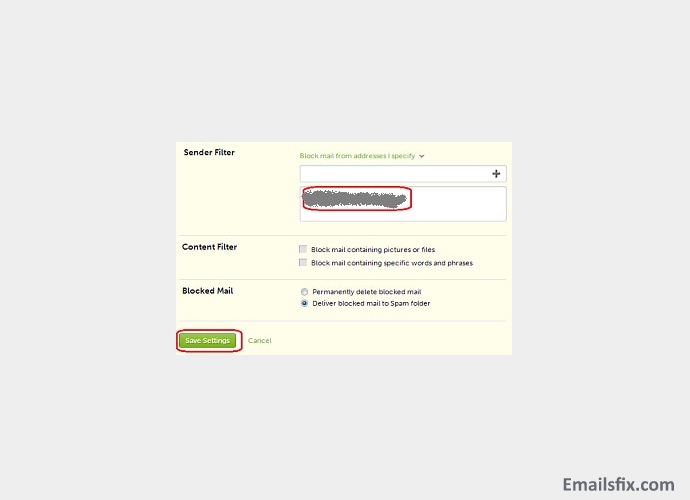 8. Another option in the sidebar, 'Block Mail Containing Pictures or Files' allows you to block all the emails containing any kind of attachment.

9. Once you specify among all options by choosing one of the settings in the blocked Mail section. It will ask you to choose from either "Permanently Delete Blocked Mail" or "Deliver Blocked Mail to Spam Folder."

10. To enable the AOL block email feature, click 'Save' or 'Save Settings'.
How to Block an Email Address on AOL?
AOL email account features the option that lets you create folders to store archived business and personal emails while also blocking unwanted sender from any business or services. The features allow you to AOL block emails, a maximum of 1000 emails, which doesn't ask to download any plug-ins or browser extensions or purchasing any special type of driver. You can block sender on AOL or you can block people on AOL with the blocking feature which is accessible via the Mail Controls component.
How to Block an Email Address on AOL Desktop Version Prior to 10.1?
1. Sign in to your AOL account and enter "Mail Controls" into the search box at the top and press 'Enter'.

2. The pop-up box appears that says, "Block mail from addresses I specify." Enter the email addresses of the individuals, service or businesses you want to block in the text related field. Enter a comma to enter multiple email addresses to block.

3. Click 'Save' to enable.
How to Block an Email Address on AOL Desktop 10.1 Version?
1. Sign in to your AOL account and click the "Mail'' icon.
2. Click 'Settings' followed by 'Spam Controls'. Click ''Edit spam Controls'' for the AOL Desktop 10.1 version's mail control.
3. Click the circle next to "Block mail from addresses I specify''. Enter the email addresses of the individuals or businesses you want to block into the text box. It will allow block spam on AOL,
4. Click "Save" and then 'OK' to finalize the setting.
Tips on Blocking Unwanted Emails on AOL
Still getting bunch loads of newsletters in your AOL inbox, when you actually don't need it at all. Then, this article is for you. We have an epic way to filter all your unwanted communication. This article will help you on how to block spam mail on AOL.
Be attentive while sharing your email address - Higher the times you have shared your email address at the different online platforms, higher are the chances of receiving unwanted emails in the form of promotions, spam, and newsletters.
Be alert in responding to unwanted emails – In case you receive an email and happens to be a part of spam, do not reply to those emails. Also, such emails should be treated as unwanted and to be deleted as soon as possible. This will be a significant step in blocking unwanted emails on AOL.
How to block emails on AOL for iPhone?
There are times when the newsletters from different services make your inbox look stuffed and messy. It is that one person or one organization that keeps you bother with their service plans and their daily email dispatches creates a hassle in your daily tasks. In such, the only solution is to block the sender on AOL or to block an email address on AOL, with these steps.
1. Log in to your AOL account.
2. Click on the mail icon followed by "Settings" and then "Spam Controls"
3. Click ''Edit spam Controls'' for the AOL Desktop 10.1 version's mail control.
4. It will give the sender filter that asks to click "Block mail from addresses I specify''
5. Click Save
Regulate Spam and Privacy in AOL Mail
Learn how to block junk mail on AOL that helps you protect your AOL mail account from unwanted spam.

The safety and security of all our AOL users are essential for our business and for your AOL email account. How do we block junk email on AOL? Our treatment of every spam or junk email is suspicious and we treat them at the initial stage and do not let them forward to your account, thereby filter them automatically.

But if you are still getting the one which is deemed to be spam, there are additional ways you can customize your ways to protect your privacy.
AOL never shares or endorse its users' email address to any spammers or data management organization.
AOL is constantly working on innovative systems to reduce junk to your account.
Choosing the option 'This is a spam/This is not spam' is a significant step that helps us identify which one should be treated accordingly.
If all your spam messages are automatically going in the spam folder, that means your filters are working and all your mail would be treated supposedly.
If you're still suspicious about spam or still getting all the unwanted ones, then you should change your AOL mail password. This procedure should be repeated at frequent intervals.
Block Unwanted Emails on AOL
Once you have marked an email as spam, we will make sure that you will not get all these annoying emails. There are chances that some emails can slip through, but you can take a few steps to counter that.
Mark as Spam
After marking the emails as spam, you will not get any unwanted emails on AOL. All the incoming messages will be directed automatically to the spam folder.
Log on to AOL Mail
In your inbox, select the message which you want to treat as spam
On the top-left of the email, click Spam.
Create your own Spam Filter
Go to your AOL mail account, under profile click 'Options' followed by 'Mail Settings'.
You will get the 'Spam Setting Tab' option to click.
It will ask you to add the email address that you want to filter.
Enter '+' followed by email address in the field box
Once done, click Save.
It will block emails on AOL mail that you do not consider necessary while working. In case you want to remove any email addresses from 'Spam Setting Tab', just hover your mouse towards the address and click on 'X'.

You can also find here articles on more topics such as AOL IMAP Server Is Not Responding Problem and Forward AOL Mail To Gmail Account. These articles can be useful for you in finding the different solutions for AOL mail related problems. All the steps mentioned in solutions are easy to follow and execute.

After reading the aforementioned information, we hope that the"how to block emails on AOL?"question no longer exists in your mind. But if you still have any query or doubt, do let us know through the live chat support. Our technical team is ready to provide assistance and help 24*7 as we believe in gaining higher customer's trust and confidence.