How To Delete Comcast Email Account?
---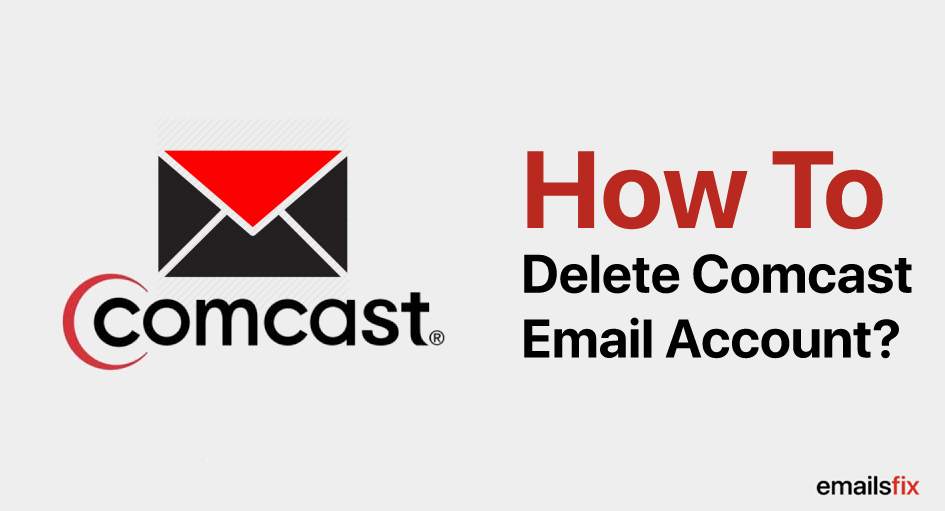 Are you struggling with "how to delete Comcast email account" question? Then no worries. In the following guide, we will go through the detailed steps that will help you delete your Comcast emails, retrieve your deleted Comcast emails, and delete your Comcast voicemails. You can delete all your secondary Comcast email accounts easily. However, doing so for your primary Comcast email account is quite difficult. This is because you cannot use any Comcast services after you have deleted your primary account.
However, if you still wish to delete your primary Comcast account, then you have to go through the long process of calling off all the services that you are receiving from Comcast and surrendering all the equipment back to them. After all your dues are paid to Comcast, it takes about 90 days to delete the primary account. The steps to delete the Comcast email account are easy to follow as you need no technical expertise or helping hand. Just read the article carefully and follow as mentioned.
Steps to Delete Comcast Email Account
In Comcast, you can either suspend or remove your secondary email account. Find below the steps that describe the procedure how to delete Comcast email account.
Suspending of Comcast account: The account will be temporarily suspended, for a 90 day period. That means you won't be able to use any of the Comcast services and accesses on your account. A suspended account can be reactivated anytime. Although if it is not reactivated, it will be deleted automatically.
Removing the Comcast account: Thinking about how do I delete all my Comcast voicemails at once? Then this method is for you. Removing an account will permanently delete it and all the emails, voicemails, information, settings, etc. associated with that email account.
Follow the Given Steps to Delete or Suspend Your Comcast Account:
Firstly, Sign in with your Primary account in Customer Central.
Go to the Users section.
Select the drop-down arrow under the Choose User Account section.
Now select the account that you want to Delete or Suspend.
Click on Suspend to temporarily deactivate the account.
If you want to permanently delete the account, then click on the Remove button.
Follow the prompt instructions to confirm the suspension or deletion of the accounts.
After following the aforementioned steps, you will be able to delete your Comcast email account without any problem.
Steps to Delete your Comcast Emails
You can manage your email settings to delete the older emails from your inbox, trash, drafts and sent folder so that you can save up memory space for the important and recent emails. To delete all your unwanted Comcast emails in one go, follow these steps:
Login to your account from where you want to delete emails in Xfinity.
Go to the emails tab.
Select the Inbox folder and then go to the icon next to it.
A menu will be opened from where you can select the 'Delete all Messages' option.
Now your inbox will be emptied.
These steps will definitely help you in getting rid of all the unwanted Comcast emails.
Recover Your Deleted Comcast Emails
If you have deleted an important email by mistake, then you can recover it without any hassle by following the simple steps given below. However, you can only recover emails that have been deleted within the past 2 weeks.
Log in with your primary account in the Xfinity
Click on the email tab to go to your mailbox.
Select the More Action icon adjacent to the Trash folder.
Open the Recover Deleted Items.
Select all the emails that you wish to restore and click on the 'Move Selected Items'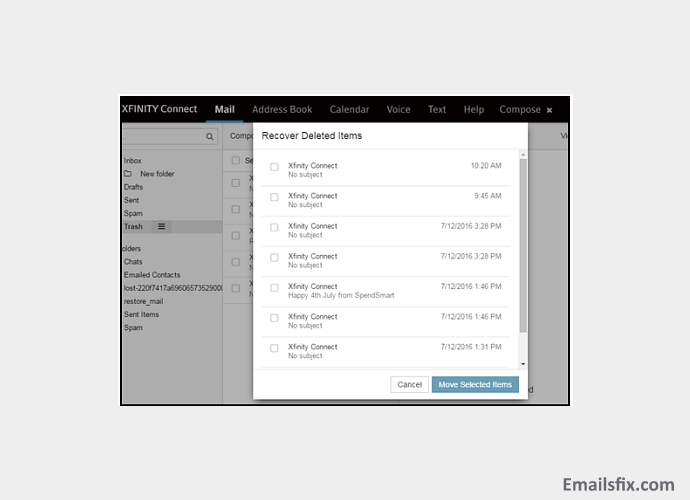 Select the folder where you wish to move these emails and then click on the Move
Your deleted emails will be restored and saved in the folder of your choice.
Congratulations! You have successfully recovered the emails that were deleted by mistake.
You can also find here more informative articles that cover detailed steps related to how to delete a folder in AOL mail and Comcast email settings . The steps are well-described and you will find them to be 100% working. Also, the procedure will not take your much time and effort.
We hope that after going through this article, the question of how to delete Comcast email account? no longer exists in your mind. But if you are still struggling with the steps or procedures to delete the Comcast email account, then you can connect with our technical team through the live chat support. Our team is ready 24*7 to provide you assistance and help regarding any Comcast related problem or query.