Mediacom Email Settings for Outlook, iPhone & Android
---
Mediacom is a top-rated email service based out of the USA. If you want to use Mediacom email on Microsoft Outlook and iPhone, then follow the below-mentioned steps:-
Mediacom Email Setting For Outlook
The Mediacom email outlook setting are:-
Open the Outlook Application
Click on the file option
Go to the category information and choose Account settings
Open the email tab and click on 'new.'
Click on 'server settings and select next
Enter the following information
Your full name
Your Mediacom email address
Go to the type account option and select the pop3 option
Enter the following information:-
The incoming email should be 'mail.mediacombb.net
The Incoming server value should be 950
For outgoing email write mail.mediacombb.net
The outgoing server value should be 465
Enter the login information like username and password and choose SSL as the security type.
Test the settings
If everything checks out, then you will be using Mediacom on the Outlook in no time.
Click on finish
Please note that the settings might be a little different for other versions of Outlook. In case of queries, you can drop us an email, and we will get back to you.
Mediacom Email Settings For iPhone
Mediacom email iPhone settings are:-
Open your apple device
Go to settings
Go to mail and contacts options
Click on the add account option and click on other
Enter the following information in the 'Add mail account' option:-
Name
Full Mediacom address
Password for the account
Make sure you have entered the description of the account
For Incoming Mail Server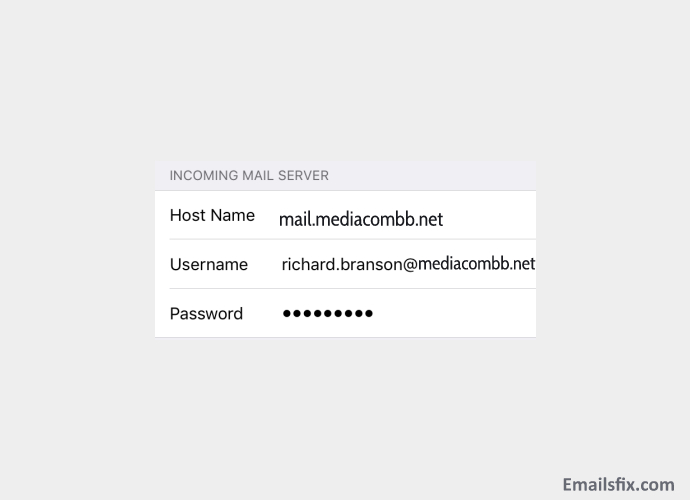 The hostname should be mail.mediacombb.net
The username should be your email
Enter your password
For outgoing server enter the following:-
Mail.mediacombb.net as the hostname
Enter your Mediacom email
Enter the password for the same
Click on Save
On the next page, choose your email id
For outgoing mail choose SMTP
Under the main server option, choose mail.mediacombb.net. Make sure that SSL: SSL and the server port value of 465 are there.
Go to advance and make sure that SSL: SSL and mail.mediacombb.net is entered
Go back to the last screen
Restart your phone
Mediacom Email Settings For Android
If you are an android user, then these are the Mediacom email server settings for android.
Open your mail app
Go to the settings panel
Now, select the add a new email option
Select pop3
Enter your email address
Enter your password
Then click on 'Manual Setup'
Follow each step mentioned above after that follow below step for Mediacom email server settings for android.
When the 'incoming setting screen' opens up, enter the following information:-
Enter your email id as the username
Enter your password
Mail.mdediacombb.net is for 'incoming mail server.'
995 is the port value
SSL is the security type
For outgoing server enter the following details:-
Mail.mediacombb.net should be entered in the outgoing server panel.
The port value should be 465
SSL should be the security type
Enter user name and password
Choose the 'next' option
Enter your preferences in the next screen
Name your account.
You are done with the setup.
We are confident that you will not face any issues, in case you need further assistance, please feel free to reach out to us.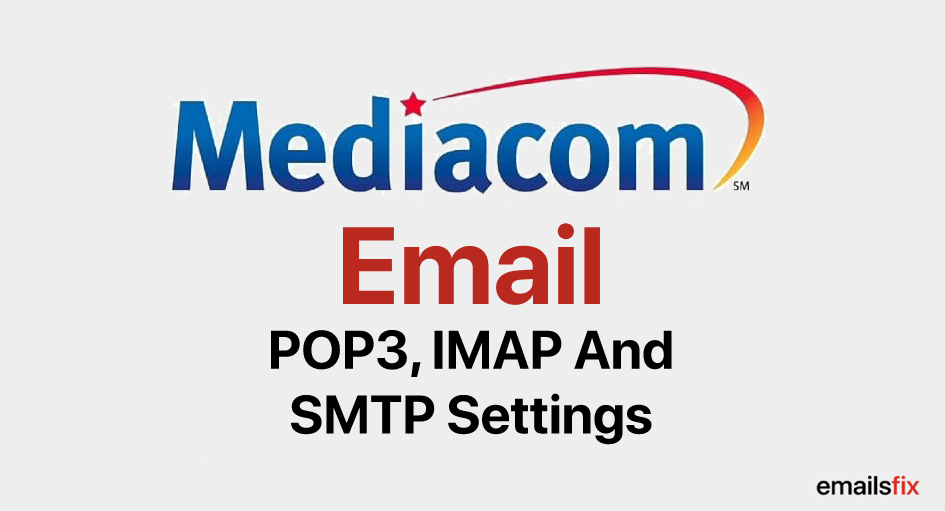 Mediacom Email POP3, IMAP And SMTP Settings