How to Fix – Outlook 2013 Crashes on Startup Windows 7 Issue
---
Are you are facing "outlook 2013 crashes on startup windows 7" issue when opening even in safe mode that results in difficulty to access the email or other problems?  Then follow this article to the end to know about the reason for the crash and its best solutions.
Major Reasons For Outlook 2013 Crashes When Opening Email :
Virus or malware attack on the system.
Some hardware issues might be the reason.
A problem in Outlook installation which results in corrupted files.
Damaged Outlook data files.
3rd party Add-ins and Outlook issues.
Outlook 2013 Crashes On Startup Windows 7| Troubleshooting:
Following are troubleshooting step that might help you in resolving the Outlook 2013 Crashes On Startup Windows 7 issue:
1. Check For The Latest Updates Of Outlook:
Always check whether you are working on the latest version of Outlook.
If you want to check whether there is a new update available then follow the steps below:
Launch the application and go to the File menu.
Then click on the help tab and check for updates.
After clicking on the updates, you will get the instruction to update the software.
Updating the software might help in solving the bugs and will solve the outlook 2013 keeps crashing issue of the software. If you are working on the latest version then you can follow the next solution.
2. "First Run" Status|Reset Outlook:
Sometimes the faulty configuration is the reason for the crash on startup. You just need to reset Outlook:
Exit Outlook and go to "Start Menu".
Search for "Outlook /firstrun" and double click on it.
Automatically Outlook will be set to "First run" status.
If the issue is still there, then go for the next step to repair your office.
3. Repair Microsoft Office:
If the above steps don't work for you, you should check for errors in Microsoft Office. Let's start repairing MS office:
Firstly, Go to the control panel and click on the "Uninstall a program" option.
You will find Microsoft Office, select the " Change" option.
After that, choose the repair option and click on "continue".
After doing following all steps, restart Outlook, if the outlook 2013 keeps crashing error still persists follow the next step.
4. Deactivate Detrimental Add-Ins In Outlook:
Sometimes third-party software on a system can add plugins to Outlook, that's why it is always at a risk of harmful add-ins which can make the system work slow and can lead to a crash. To find out the black sheep we need to follow the steps given below:
Open Outlook in Safe mode then navigates to the "File" menu.
Select Outlook options, navigate to "Add-ins" tabs and click "Go".
After that disable Add-ins one at a time, then restart Outlook.
Repeat this step till you find the culprit and if this doesn't help, go to the section given below to check the file's integrity.
5. Inspect File's Integrity Via Scanpst.Exe:
Scanpst.exe is a repair tool that comes with Outlook and it is designed to check and fix Outlook errors responsible for the crash.
Search "Scanpst" in explorer and it will locate this tool.
Click on the browse button to select the file and press the "stress" button.
After repairing, it will tell you the reason for the crash and repair Outlook for you.
6. Repair MSO DLL Outlook 2013 Crash:
The MSO DLL error makes your Outlook crash in the middle of writing an email and also bothers you by losing all the current emails. To solve this issue follow the steps given below:
First of all, check whether you are running Outlook in compatibility mode.
If yes, then right-click on Outlook(.exe) >> properties >> compatibility >> uncheck all the present boxes >> Apply >> OK.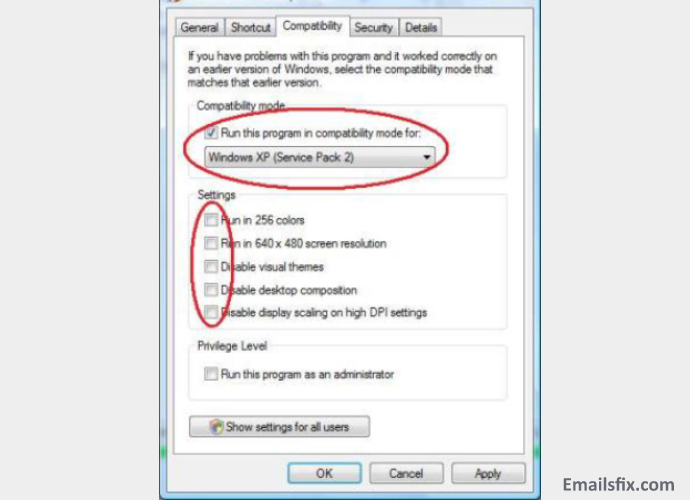 After all the above steps open Outlook again and check.
Is your MSO DLL Outlook 2013 issue still persist? If yes then, create a new Outlook profile by following the link given below.
https://emailsfix.com/outlook-email/how-to-fix-outlook-2016-keeps-crashing-issue
If the above-mentioned steps don't work for you then check if multiple versions of Office suite is installed on your system, if yes uninstall a version of Office suite you never use. You can check it by the following steps:

Control panel >> Programs and features and there you can check how many versions are there in your system.
If there is more than one version, which is not in use then repair Office 2013 and then verify.
Follow this link: https://support.office.com/en-us/article/repair-an-office-application-7821d4b6-7c1d-4205-aa0e-a6b40c5bb88b?ocmsassetID=HA010357402&CorrelationId=a0215b2d-7dc5-4fd6-9ced-f10a46ee3c19&ui=en-US&rs=en-US&ad=US
7. NTDLL DLL Outlook 2013 Crash:
This error makes Outlook crash and due to this, your application might not load for more than 30 seconds. So, to resolve this issue you need to follow the steps given below:
Open Registry.
Find HKEY_USERS\...\Software\Microsoft\Office\<version =15.0 for Office 2013>\Common
Then rename " Common" as "common_Bad"
After doing that, open Outlook.
You will not face this outlook 2013 crashes on startup windows 7 error and can make work on Outlook without any difficulty.
There is always more than one reason for Outlook 2013 crash. So, you just need to find the one culprit and make the required changes. 
If you are still not able to get rid of this issue then you can reach out to EmailsFix.com for more help and clarification from our experts but we don't think you will need it.