Fix Microsoft Office Error: Sorry We Are Having Temporary Server Issues
---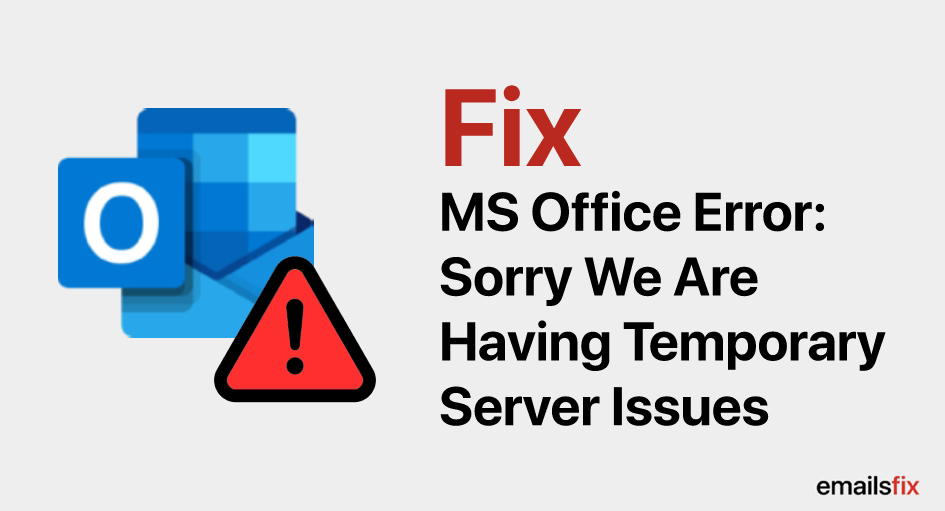 If you are an ardent user of Microsoft office products, then you must have faced a particular problem while using Microsoft Office 2016 version which ceases to open showing an irritating prompt problem 'Microsoft office sorry we are having temporary server issues'. Apparently, the error code 'Microsoft office sorry we are having temporary server issues' seems to be a temporary issue that can be resolved by following simple steps ahead. In this article, we try to address the Office 2016 sorry we are having some temporary server issues which is quite common while activating Microsoft office 2016.
Sorry We Are Having Temporary Server Issues O365
In order to troubleshoot the issue 'Microsoft office sorry we are having temporary server issues O365'. we will suggest you using Internet Explorer (I know it's kind of weird option to do so, however, it is one of the easiest ways to meet the issue) and go to its Tools option. Thereafter, you need to proceed to Internet Options then Advanced which is followed by Reset Button. Go to Tools>Internet Options>Advanced>Reset Button.
Voila, you have apparently addressed the issue with a precise solution for the troubling prompt of 'Microsoft office error sorry we are having temporary server issues'. Now, in order to use Microsoft Office's products, you will get an advisory Restart Your Computer prompt which you should follow to have a smooth functioning of the application.
Change Microsoft Office Professional Plus 2016
This solution is highly recommended, as as it can be applied to the latest versions of Windows including Windows10/8 and 8. Besides, if you have a Product Key for your latest Microsoft Office, then definitely this solution will work for sure.
In the first step of Solution 2, just go to control panel of your system and then select Programs and Features
There you will find Microsoft Office Professional Plus 2016
Just click 'Change' leaving Uninstalling options showing as in two options wait for the response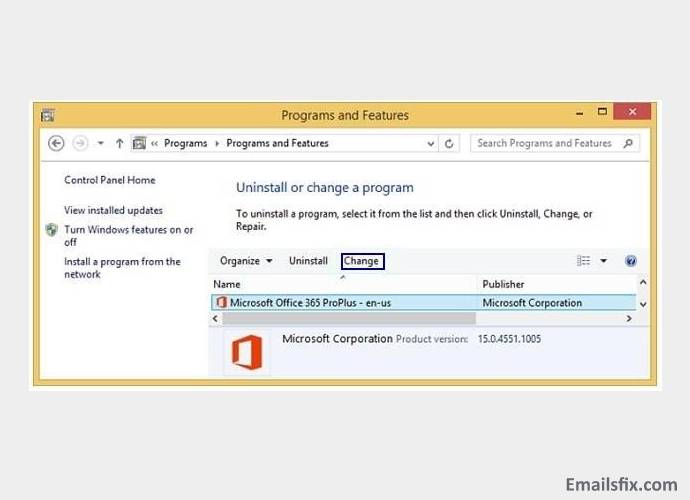 You will get a prompt with a title 'Change your Installation Of Microsoft Professional Plus 2016 with following options:
Add or Remove features 2 Repairs 3 Remove 4 Enter a Product Key
As you have already a Product Key, you need to click on the fourth option and subsequently feed pertinent product key to use Microsoft Office application
Next, you need to wait till your software gets configured
Once you get your MS Office software application configured successfully, you will get an informative message on your screen which reads as " the Configuration for Microsoft Office Professional Plus 2016 is Complete. Which means you are good to go ahead
Finally, in the wake of verifying whether you have addressed the issue 'office Sorry We are having some temporary server issues', just open pone of the Office Product let's say MS Word this time
You will see MS Word starts working without any hiccup.
Digging more about the error prompt ' Microsoft office sorry we are having temporary server issues '. we have come to a point that the very issue originates due to a corrupted and badly installed MS Office application in your system. Describing the issue which usually takes place when you try to insert any foreign attachment to it. You can also find here the one stop guide for Outlook error 0x8004011d and set up Godaddy email on iPhone. The guide mentions all the necessary steps that you need to follow in the process of email settings and account setup. All the steps are well described and you will not be stuck anywhere.
Note: For major versions of Operating Software (OS)including Windows 10/8/7 and 8.1, all you need to follow the second solution that we have described above. Best wishes for your smooth MS office application working. Now, statuary note if you are still finding it hard to get into the real issue, we will suggest you talk to our Emailsfix expert professionals who are quite apt in solving such Microsoft Office 365 temporary server issues coming to your system. Just fill below blank fillers so that we can get back to you through a chat process.