How to setup Gmail in outlook?
---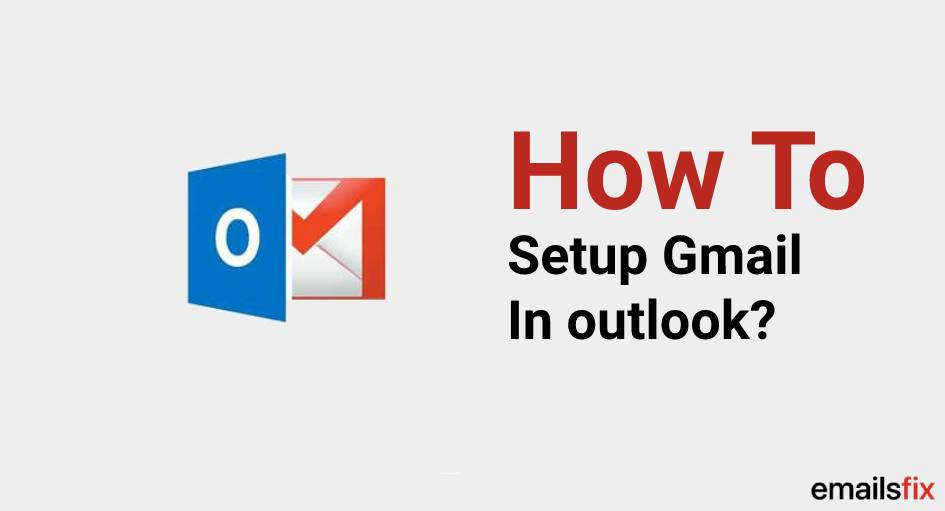 Gmail has its own advantages but, you might rather use your Microsoft Outlook client on your system. Whether you want to continue to use a specific feature or just because you want a Google user interface. You can use both, yes! You can locate your Gmail email in Microsoft outlook and swapping to a Gmail account doesn't mean you have to quit Outlook client.
There are multiple benefits if you setup Gmail in outlook account, let's count the advantages:
More storage: Microsoft Outlook allows you to search for emails relying on message size. Thus, you will easily find emails that block your Gmail Inbox and delete them from Outlook. the heavy messages will vanish instantly from Gmail servers as well.

Extra Protection: Gmail spam detection is excellent still there stays a chance that spam can sneak into your maildrop. Since Microsoft Outlook also offers its own junk email filters, changes of spam sneaking into your inbox become very low.

Time Saver: Using different emails accounts and email brands for clients is time taking. What time consuming is when you can open one email client, log into all email account and manage the messages. To save your precious time, know how to setup Gmail in outlook.

Unconfined Offline Access: Gmail accounts are accessible offline only on Safari and Google chrome, whereas, Outlook accounts are accessible offline on any internet explorer. After you setup Gmail in outlook 365 or in other versions, it'll enable offline access without any restrictions.
There are many more advantages to configure Gmail in outlook. If are using Microsoft Outlook 2016, 2013, 2007, 2010 or 365 and want to setup Gmail in outlook account, go through the entire article. This tutorial will teach you how to perform it.
Note: It is assumed that users going through the page already has an outlook account. If you do not have, know how to create email in outlook and then, perform one or more of the following methods.
How to setup Gmail in outlook 2016?
Before we start with the steps to add Gmail in outlook account, you must enable IMAP access in your Gmail account. This method is not limited to outlook 2016 users, to setup Gmail in outlook 2013 you may follow the same.
Step 1: Sign in your Gmail account.

Step 2: Click on the icon of the setting and select 'Settings'.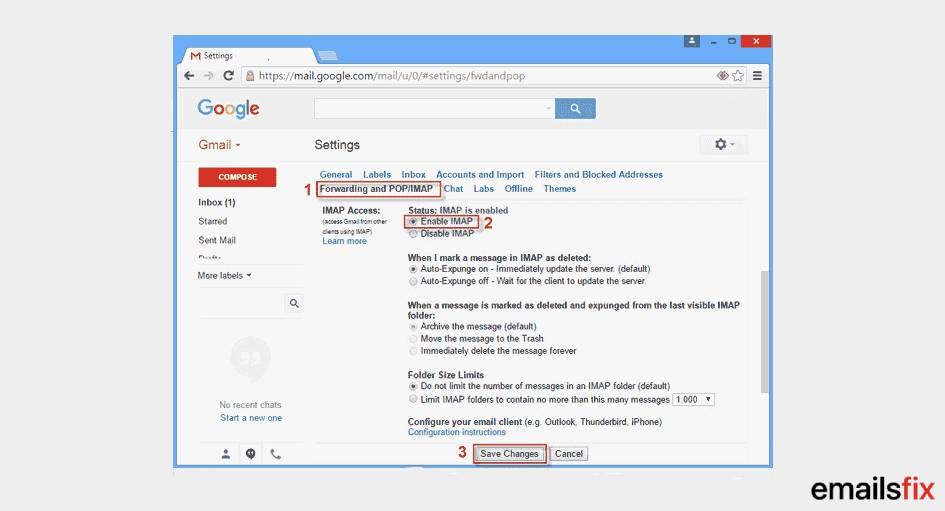 Step 3: Select 'Forwarding and POP/ IMAP', further choose Enable IMAP from the status of IMAP and click on 'Save Changes'.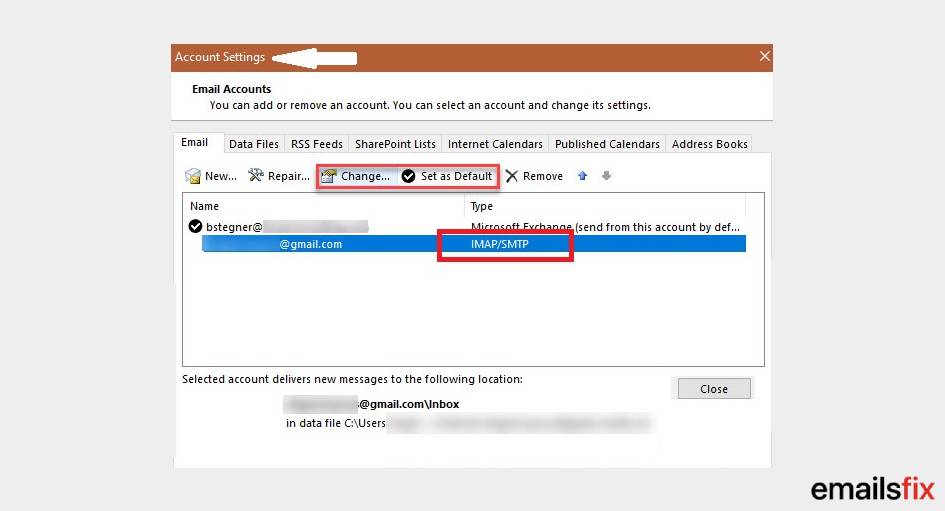 Step 4: Navigate yourself towards the upper-right corner and click on 'My Account'.

Step 5: Select 'Connect applications and sites' and turn on the 'Allow less secure apps' option.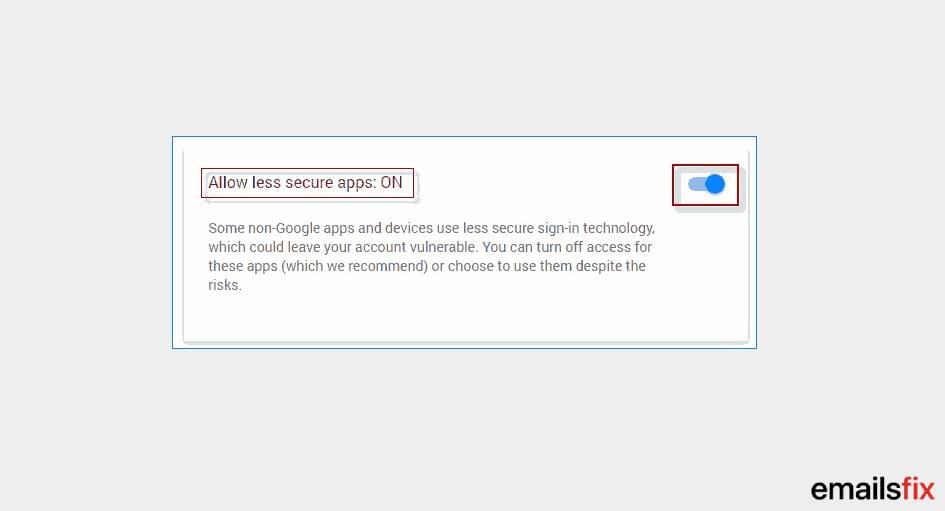 After performing the steps, you can sign out from Gmail and Open your outlook account in 2016 version.

Step 6: Click on File and Info respectively and select 'Add Account'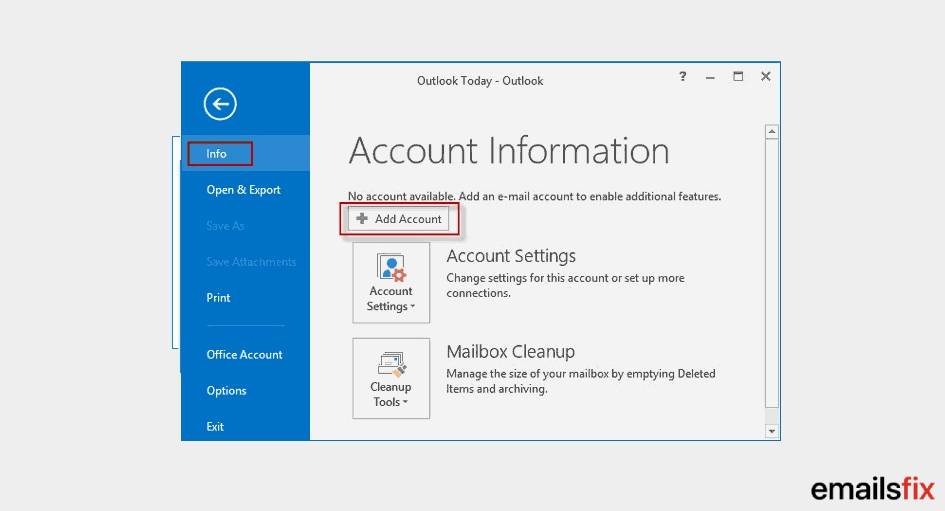 Step 7: 'Welcome to Outlook 2016' will pop on your screen, click on Next and Select Yes to continue.

Step 8: Choose 'Manual setup or additional server types' from the given options and click on 'Next'.
Step 9: Drop the option of choose service and select 'POP or IMAP' and again click Next

Step 10: Provide all the correct information asked by you and click on 'More Settings' and 'Next'

Step 11: Drop down 'Outgoing Server' and choose the option of 'Use same setting as …….' and click on 'Ok'
Step 12: Click on 'Advanced' and enter the following figures:
IMAP = 993, Type of encrypted = SSL
SMTP = 25, Type of encrypted = TLS
And click on 'Ok'
Step 13: Come back to 'Add Account' and click on 'Close' to finish the procedure
After following the steps you must have been able to setup Gmail in outlook 2016.
How can I setup Gmail in outlook 2010?
If you are still using the older version of outlook and want to configure your Gmail in outlook account. The steps of doing so are initially different. Follow the subsequent steps carefully:
Section 1: Open Gmail account > Settings Panel > Forwarding & POP/IMAP > Select 'Disable forwarding' from Forwarding and 'Enable IMAP' from 'IMAP Access'.
Section 2: Open Outlook account > File > Info > Account Information > Account Settings > Email > New > Provide information like your Name, email addrress, and password > Next.
Section 3: Navigate yourself towards 'Auto Account Setup' > Manually configure server > Next > Internet E-mail > Fill in the tabs with the following words: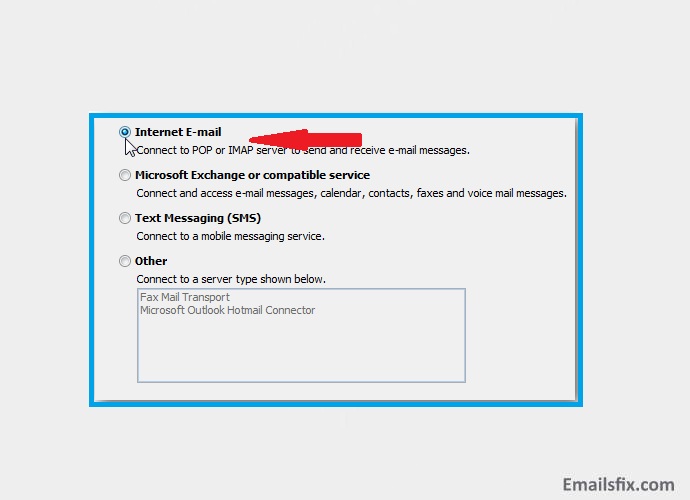 Type of Account = IMAP

Incoming mail = imap.gmail.com

Outgoing mail = smtp.gmail.com

Check the option of 'Test Account Settings' > More Settings > Next >
After following the above steps, kindly follow steps 11, 12 and 13 from the solution of How to setup Gmail in outlook 2016.
Note: The above solution is also helpful to those who are looking for methods of how to setup Gmail in outlook 2007.
How to setup a Gmail in outlook 365?
Step 1: Open the application of Gmail and add another email address

Step 2: Click on 'Exchange' and provide your email address and select 'Manual setup'.
Step 3: Provide your password and tap on 'Next'
Step 4: The processor will ask your permission to enable security features by popping the following message:
'The server outlook.office365.com requires that you allow it to remotely control………… setting up this account?

Click on 'Ok'
Step 5: Under 'Automatic Push' check all the options and click on 'Next';

Step 6: Click on 'Activate' and 'Next'

Step 7: You will be done with the processing to setup Gmail in outlook by just clicking on 'Take me to Gmail'.
Using one or more of the methods mentioned above will make you do setup Gmail in outlook. By any chance, if you have not been able to follow the steps carefully or followed but, the solutions could not help, we suggest you connect with our technical experts over a chat. Emailsfix experts have always enlightened you in the world of technology.

The services are praised by many customers across the world. The solutions of other outlook errors or queries like recover deleted emails outlook, create rule in outlook are also available on the website of Emailsfix.