How to Fix Outlook 2016 Keeps Crashing Issue
---
After the release of Outlook 2016, many users have switched to it. With the advancement of features, there are few bugs that users have reported, like when you try to reply to a new message, it crashes or some update causes the crash of the software. So, is your Outlook 2016 keeps crashing or freezing repeatedly? If yes, Don't worry. Today we're going to discuss how to solve the problem and improve Outlook 2016 stability.
You may face the following problems with Outlook 2016:
Sometimes it crashes on startup while working on a safe mode.
Outlook 2016 crashes when opening the issue.
EMSMDB DLL Outlook 2016 crash problem.
Crash event id 1000, this is one of the common issues you can face.
It can also crash while sending emails, messages or loading profiles.
EMSMDB32.DLL files can also cause crash issues.
Outlook 2016 crashes when adding the account
Outlook 2016 Crashing Windows 10|Solution
Fixing the above-mentioned issues is a herculean task for you if you are not tech-savvy. Below are some solutions for solving the outlook 2016 keeps crashing issue:
Step 1
Check For The Issues Caused By Add-ins:
Add-ins are third-party products that can create a crashing issue and make Outlook work slow and can give you some problems. Below are steps to clear the add-ins.
Close Outlook 2016.
Open RUN on windows by pressing Windows + R in Windows version 10, 8.1, 8.
Type Outlook/safe on the RUN bar and click OK to work in the safe mode.
After that click options on the file menu and navigate Add-Ins.
Click on the COM Add-ins, and then click Go.
Then clear all the checkboxes in the list and click OK.
Restart Outlook, check if the issue is solved or not. If yes, then start adding add-ins and do it one at a time.
If your problem is not solved then, you might be facing Outlook 2016 crashing due to other issues. Follow the steps given below for better assistance.
STEP 2
Check For Faulting Module EMSMDB32 DLL Outlook 2016 crashes
After upgrading the office from 2013 to 2016, Outlook 2016 crashes due to the faulting of module EMSMDB32.DLL. This problem is caused due to corrupted mailbox views and can be solved by the following steps:
Start Outlook with /clean views switch and check if the issue is solved or not.
If this issue is still there, press Windows key + R and this will open the RUN command. Type outlook/clean views and press enter.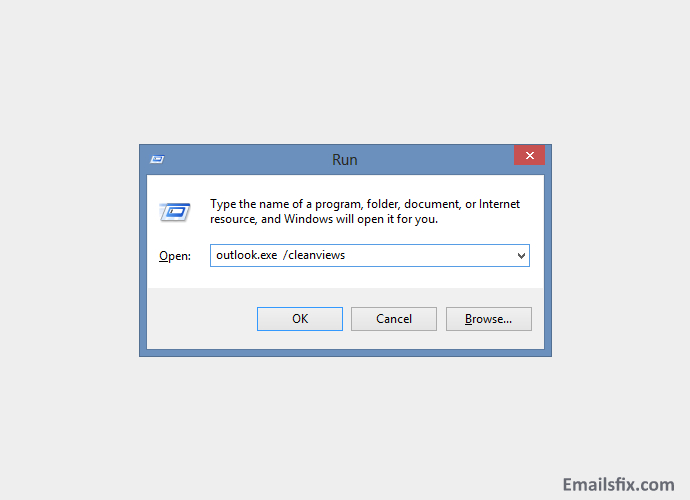 If the issue is still there then you can also try to move the mailbox users to another database.
STEP 3
Repair Microsoft Office
Repairing the office might help you, as with repairing you will restore the setting of outlook and make it easy for the software to work properly. You can do it by following the steps given below.
Press Windows key + R and this will open the RUN command. Type appwiz.cpl and press enter.
In Programs and Features, navigate MS Office product that installed on your system and clicks Change.
After that, click Repair and follow further instructions.
If the above can't solve the Outlook 2016 crashing issue, then you can go to the 4the step that can help you in diagnosing the Outlook.
STEP 4
Diagnose Outlook:
The Microsoft Support and Recovery Assistant helps in identifying and fixing the problem. It also suggests what is the best solution for you. Follow the steps below:
To automatic diagnose run the tool set up for fixing the issue.
If this doesn't solve the issue, go to the Microsoft Support and Recovery Assistant for Office 365.
After going to the Support section, select Outlook, and select Next.
Then select your problem in the section
If the problem is not solved by creating a new Outlook profile then go to the section below and get rid of the issue you are facing.
STEP 5
Activate Hardware Acceleration:
Hardware acceleration provides better performance in many modern applications, but with this performance enhancement, there are some issues that cause problems in the software. To fix the issue disable it by doing the following:
Firstly, Open Outlook.
After that, Go to File >> Options >> Advanced.
Navigate to the Display section and tick on the checkbox for Disable Hardware graphics acceleration.
After doing the above steps the problem will be solved and if it is not solved then go to the section below.
STEP 6
Delete Existing Email Accounts And Add Them Again:
Sometimes the culprit of Outlook 2016 crashes when adding account might be a corrupted email account. To fix it, you need to remove all the email accounts and add them again. To do it follow the steps below:
Open the control panel by searching it on the "search programs and files" bar.
After that go to User Account >> Mail.
Click on Email accounts on the Mail Windows.
Select the accounts you want to remove. Do it with all the accounts.
Once you removed all the accounts, you need to add them again. This will recreate all the accounts and the problem will be completely solved. If not, follow the next step.
STEP 7
Check Account Password:
If Outlook 2016 crashes when adding the account is still happening then, the problem might be in your Account password. And this problem is faced by users while changing the password on another system. The problem is if you changed the password on another device, current devices will use the old password.
To fix this you need to do the following:
Change the account settings and configure the password.
Doing that Outlook should start working without any problem. If not follow the next section.
STEP 8
Check The Antivirus You Are Using:
Antivirus is a guard of your system which saves your data from malicious activities performed by hackers but sometimes it interferes with the working of some software. Antivirus also bother working of outlook and result in Crash.
To fix this issue follow the following steps:
Temporarily disable Antivirus you are using and check if it solves the issue.
If not, then uninstall your antivirus.
This might help you in solving the Outlook 2016 crashes when opening and if not go for the section below.
STEP 9
Creation Of New Outlook Profile:
Removing the profile also deletes files that are attached or related to the previous profile. This can also assist in solving the Microsoft outlook 2016 crashing issue.
First of all, if you have created your new profile while running SARA, then there is no need to create a new one. If not follow the steps given below.
Open Control Panel on your system and then click on mail.
Click on Show Profiles and select the profile you want to remove.
After removing, click ADD.
Then put the profile name in the box given.
Put user name, SMTP address, password and then click on Next.
You will get a pop of message, then just click on " Don't ask me about this website again" and allow.
Then enter the login credentials and click OK.
Click Finish.
Advance options are always a saviour in any situation, in that case, you can also run SARA advanced diagnostics. Follow the section below.
STEP 10
Operate Outlook As Administrator:
Administrative privilege is important and if you don't start Outlook as administrator it might crash. So, to do that you need to follow the steps given below:
Right-click on the Outlook Shortcut located on your desktop.
Choose Run as administrator from the menu.
Every time doing this might get a bit tedious, there's another way to run Outlook always with administrator:
Right-click on the Outlook shortcut available on the desktop and click on the properties option.
Click on the compatibility tab then click on "Run this program as an administrator".
That's all, now Outlook will always start with administrator privileges and you won't face issues like crashing.
STEP 11
Cut Out Icloud And Internet Calendar:
Deleting iCloud and internet calendar from your system might help in fixing the crashing issue. You can remove by doing the following:
Open control panel >> User Accounts >> Mail.
Then select on Show profiles.
After selecting Profile, click on the properties of data files.
Remove Icloud and internet calendars.
Following all the steps to check whether the issue is still there or not. If yes, follow the next section.
STEP 12
Run SARA Advanced Diagnostics:
Running this gives detailed information about Outlook problems and solutions. It also helps you by providing the support engineer which can help you in solving the issue.
Click outlook advanced diagnostics and run them.
This will check and tell you the issues and possible solutions for them.
These above steps have fixed outlook 2016 crashing issues for me and stabilize the operation of this software. We hope this helps you too. If this article helps you then please let us know in the comment section below and If you are still facing this issue then you can chat with our Experts on Emailsfix.com who will solve your outlook 2016 keeps crashing issues.