Why Is My Gmail Not Working?
---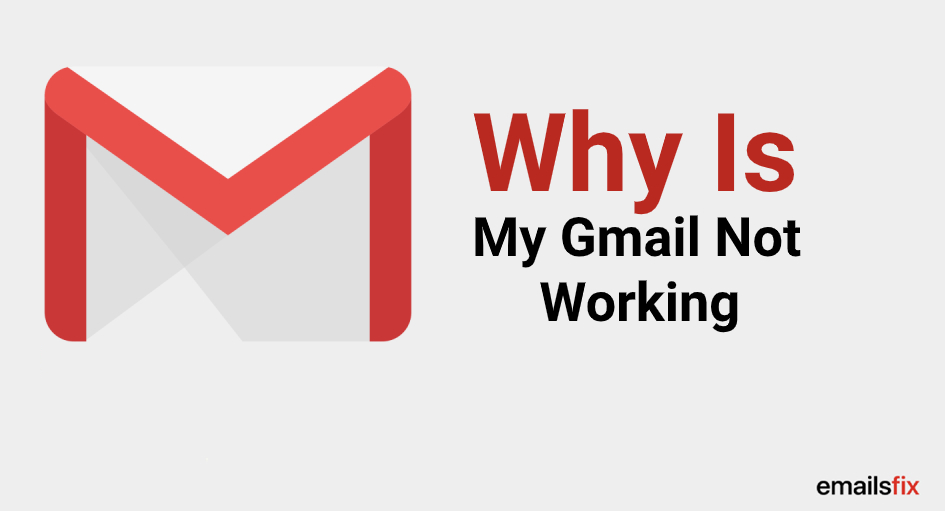 There may be many reasons behind this question "why is my Gmail not working?" in your mind. Worry not, we are going to highlight below all the possible reasons due to which your Gmail may not be working and the possible methods to fix the issue with your Gmail account. Gmail is widely used and preferred around the globe so there may be many users that may be encountering various issues with their Gmail account. Also, many users report that Gmail not working on iPhone, Outlook, Android, and Mac. But we must tell you that the solutions mentioned below in this article will work for all device types and email client platforms. So, let's get started. If your Gmail not working then you may face any of the below-listed problems:
You are not able to send emails.
As emails don't load you cannot receive emails.
Gmail Inbox does not refresh.
You don't get any new email notification.
You encounter error/issue when you try to sync your Gmail account.
And the above mentioned are just a few common issues/problems through which you can know that your Gmail is not working properly.
Using Gmail can become irritating and frustrating sometimes because of the slow loading and lagging. As a result, you are not able to send or receive your emails altogether. Furthermore, your Gmail account does not work properly as you want it to. However, there may be various explanations behind Gmail not working on various devices.
The main possible reasons for the occurrence of Gmail not working issue are:
Several plug-ins and add-ons that are installed on the system/device.
The browser may not be fully compatible.
Gmail's storage capacity may be exhausted.
Poor or no internet connection.
Plug-ins don't work properly with Gmail.
Pile up of cache and cookies on your system/device.
All these points lead to the Gmail sync problem on your device. So, just follow the below-mentioned troubleshooting methods and enjoy using Gmail on your device without any interruption.
Make Sure To Check The Available Storage Space On Your Device
You can have numerous applications on your cell phone or various other devices that you use. But you do need some storage space on your device for cache and other data for all the apps you download on your device. So you also need some extra free storage space on your mobile phone to download the Gmail app from the play store so that it works fine and is capable of saving your Gmail app information. You need enough storage on your computer or device to allow the Gmail app to function properly on your device and load the new messages or download attachments without any problems/issues. If the Gmail not working on your device and you wish to make some storage space in your device then just go to Settings then Application Manager and then Downloaded, now select the apps that you want to uninstall.
Make Sure To Check Your Internet Connection
If Gmail not working on your laptop or on any other device then the reason may be an improper internet connection. If you want Gmail to load properly on your computer system or device, then you need a strong internet signal strength for this. When your Gmail app is being used and the Internet is not working properly, Gmail provides you with a window that informs you that no connection exists and that you can retry to connect when there is a proper network connection. The same goes for other browsers as well. In simple words, if you do not have a proper internet connection or even when the Internet connection is weak, there is no chance that you can access Gmail. You must make sure your internet connection is working properly always so that Gmail works properly.
Secure Your Gmail account
You must secure your Gmail account if you want to safeguard your Gmail account from all the possible external threats and vulnerabilities. For this purpose, Gmail helps users to protect their account from hacking and other threats with the help of multiple safety and security features.
Make Sure To Update The Google Play Store & Gmail App On Your Device
If you have been saying that "my Gmail is not working", then you need to update your Google Play store for the new version of the Gmail App on your smartphone. If you seek to update it without upgrading your Google Play Store, you will still face problems with Gmail. For Gmail app-related issues, go to the play store and tap on the horizontal bar lines. You will then need to select My Apps and you will be able to see a list of apps that must be updated. Tap on update if you find that the Play Store and Gmail app are also on the list and wait till they get updated.
Make Sure To Turn On Your Gmail Account Notifications
You must turn on your Gmail account's Notifications if you wish to be updated through daily notifications from Gmail.
Always Use Supported Browsers For Gmail
Always use the browsers that support Gmail properly. Some of the supported browsers for Gmail are Internet Explorer, Microsoft Edge, Chrome, Mozilla Firefox, Safari, and many more others.
Remove Browser Extensions & Applications
Situations like Gmail not working properly on your computer system or device may occur because of certain installed applications, or because of extensions on your browser that have been installed. To fix this problem, you need to uninstall all the apps and extensions and then start using the Gmail app to see if this problem has been fixed or not.
Clear All The Cache & Cookies
You must not delete the cache or cookies of your system's browser if you want that the Gmail loads up quickly but you can move ahead to clear the cache and cookies if your Gmail not working. Go to Chrome and tap "More" in the toolbar that is being displayed on your screen. Next, select More Tools, and tap Clear browsing data. You must pick Cached Images, Files and Cookies and other site plug-in information options in this box. Make a selection from the menu for the amount of data you need to clear and then select the starting time period from which the deletion will happen. In the end, just tap on Clear browsing info.
Use The Gmail Customer Service Helpline Number
You may seek assistance via email, live chat or through the community page. But you should dial the Gmail customer service helpline number if your query/problem is not resolved.
So, these were all the possible methods and solutions that you can try to fix the issue of Gmail not working on various devices and email client platforms. We have also discussed further specifically about the possible solutions to fix the issue of Gmail not working on android as many users have been demanding the same.
How To fix Gmail Not Working On Android?
You should keep syncing all the important emails and contacts that you have saved on your Gmail account or else they may be deleted permanently. When your new computer system/device is all set and all the data in the new device is transmitted, but your mail is not synced. Then all data would definitely be removed in this situation. But often, when you sync data, Gmail gives you a tough time and you can't access it. No problem, you will still be able to solve this issue of Gmail not working on android with the help of a few methods.
Steps to fix the Gmail sync error on android
An account sync error can be avoided easily by keeping the application updated periodically. Also, various technological errors can be tracked.
If the sync error interrupts the system/device abruptly, make sure that the computer system/device is rebooted. If there is a commonly occurring error, you can always choose to turn off and then restart your system/device.
Thirdly, you can still check the settings if you are not able to find the reason for the device to stop abruptly. Even if your system/device works perfect, continue to periodically test the settings.
We all receive many unwanted emails on our inbox related to bank alerts, notifications, etc. So, all these unwanted emails must be filtered on a daily basis and delete them permanently.
In addition to the above-mentioned points, you must change your account's password periodically to ensure data protection.
You can also reset your Gmail account's information if none of the above-stated methods provide you with the desired output and then sync your data easily.
We hope that after going through this detailed article, this question "why is my Gmail not working?" no longer haunts you and now everything is fine with your Gmail account. But if you have tried all the aforementioned solutions/methods and still the issue prevails in your system/device, then make use of the live chat service and connect with us. Our technical experts can resolve all your Gmail related queries and problems within a snap. We are available 24*7 just for you.
We were also getting complaints from the user about encountering the Gmail Server Error Message 007 In Windows 10. Don't worry, you will find here a separate guide that covers all the possible solutions to get rid of this error.