How To Create Outlook Email Account?
---
Do not have an outlook account? Create outlook email account in just 5 minutes on the outlook web app or on its official website. Go through the entire article now and learn how to create an outlook email account and later make your communication with clients and friends easier and smoother.
In this article, Emailsfix not only gets you the best methods with pictures to create outlook email account but also teaches you how to create an email, group of contacts and other features.

Note: The methods provided in this article are applicable for creating an account on the outlook website (www.outlook.com) or outlook web app.
How to create new outlook email account?
Before starting with the procedure make sure that your system is connected with the internet through wifi or router. Follow the steps mentioned below and begin to create outlook email account for the very first time:
Step 1: Go the official website of Microsoft Outlook and click on 'Create a free account'
Step 2: A snap of 'Create Account' will appear on your screen, click on 'New Mail' and provide an address of your wise and click on 'Next'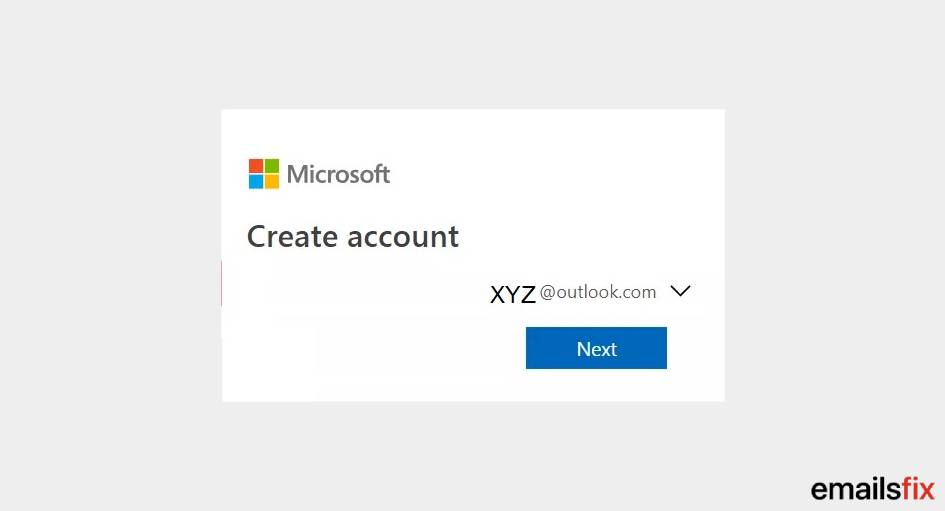 If you want to change the domain, click on '@outlook.com' and change it to '@hotmail.com'
Step 3: It will ask you for 'Create password', enter a new and strong password that is difficult to deduce and click on 'Next'
Step 4: Provide the general information 'First' and 'Last name' and click on 'next'

Step 5: Select your 'Country and Region', provide your 'Date of Birth' and click on 'Next'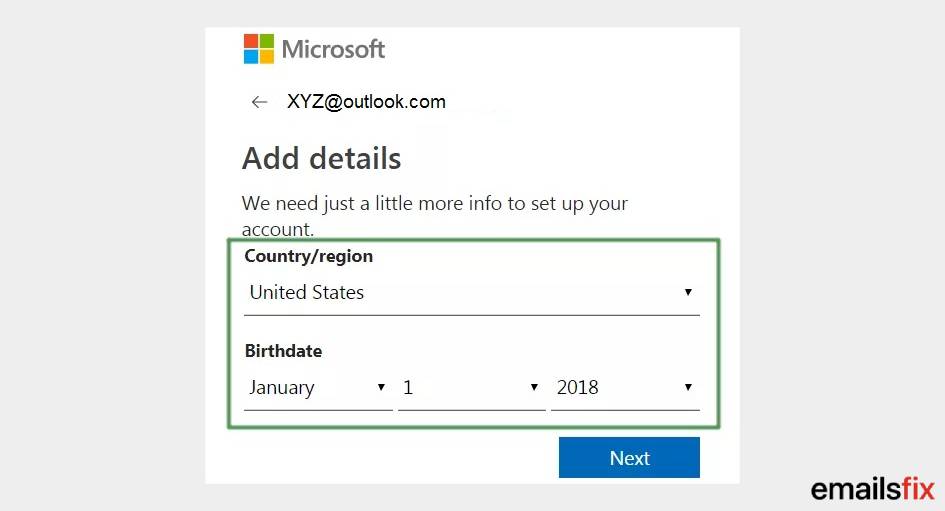 Step 6: Enter the correct characters appear on 'Captcha'

You have been successfully able to create new outlook email account with the help of above-mentioned steps. Now know the advanced features of Microsoft outlook and learn ahead how to create an email in outlook account.
How to create an email in outlook account?
Once, you have created your outlook email account, next you would want to compose or create an email in outlook account. These are the steps to follow:
Step 1: Select 'New Email' and 'Message'

Step 2: In 'To', 'Cc', or 'Bcc' enter the 'Email address' of the person you want to send a message
Step 3: In 'Subject' enter the concern of the subject
Step 4: Write the message you want, in the 'Message' tab and choose the option to 'Send'.

By following the steps mentioned above, you learn how to create an email in outlook.

How do I create a group email in outlook?
Do you want to compose the same message to multiple people? Create a group instead of composing mails for the same persons again and again. Follow the steps below and create email group in outlook:
Open outlook account and navigate yourself towards 'People'

Drop down the tab of 'My Contacts' and select the option of 'New Contact Group'

Name the group of you created and click on 'Add Members'

Select the email addresses you want and click on 'Save and Close' to finish the procedure.
This is how you can make multiple groups in outlook email account and the communication with your contacts will become smoother.

Outlook is an atlas of desktop email clients. One can create rule in outlook account and make it function on the basis of personalized rules.

Also, Know how to create signature in outlook and make communication easier with their clients.
Emailsfix.com always brings the best possible solution and methods of major-minor queries like how to create outlook email, how to create distribution list in outlook, etc in all the versions like 365, 2010, 2013, 2016, 2018. If you were unable to follow the above-mentioned methods, connect with our expert technician over a chat.

The technical experts will resolve your problem/query from a distance only over a chat. Emailsfix experts have been praised by thousands of customers from all over the world. Hence, try it and know yourself.