How to Fix- Cannot Start & Open Microsoft Outlook Issue
---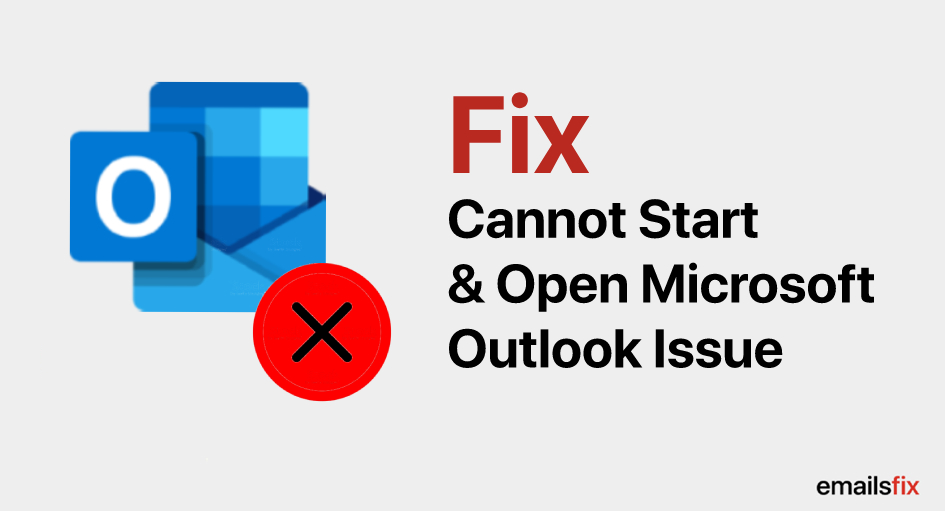 The outlook is widely used for emailing but with popularity, there are few errors and bugs users face. One of the common errors faced by users- "Cannot start Microsoft Outlook Cannot open the Outlook window", "The set of folders cannot be opened". The operation failed if you are facing this error while working, don't despair. We have you covered.
Steps to Resolve Cannot Start Microsoft Outlook 2016, 2013, 2007 Issue
There are many ways you can get rid of this "cannot start Microsoft outlook 2013 cannot open the Outlook window" error. We choose the most efficient and effective solution for you to resolve the error. So, follow the steps given below.
Solution 1- Work on Outlook in Safe Mode:
Point to consider: Before using any method always make sure you were not using Outlook.
Running Outlook in Safe mode always helps. Safe mode starts without loading the add-ins. You can follow the steps given below to start Outlook in Safe mode:
Press "Windows + R" to start Run command.
Type " Outlook/safe" and click on OK.
Then choose the profile from the box that appears.
If after choosing the Profile it asks for account credentials, then put your password and click on "Accept".
To check whether Add-ins was the culprit, take a look at the top, it will show Outlook is running in safe mode or not. If it is running in safe mode then add-ins were the problem.
To disable add-ins follow the steps given below:
You will have to disable add-ins:
In File tab, go to "Options >> Add-ins"
After that, select "COM Add-ins" in the manage box given below, then select the "GO" button.
Now, the list of all plugins is available to you. Deselect all of them and click on "OK".
After going through and following all the steps mentioned above, restart Outlook and check if the issue persists or not. However, if you are facing still facing the error, go for other solutions.
Solution 2- Create a New Outlook Profile:
Outlook profile is important because it holds all the settings of Outlook. But due to some error profile get corrupted and Outlook starts showing this error unexpectedly. That's why it is important if you face any issue, try to solve it by creating a new Outlook profile.
After creating and selecting a new profile, reboot MS Outlook and if it is not showing any error then the previous profile was corrupt. If you want to remove the previous profile, then take backup for that profile. Follow the next solution if the above doesn't work for you.
Solution 3- Repair Outlook Data Files (PST):
All data of Outlook are stores in Data files(PST) and these data files are vulnerable and get corrupt due to various reasons. So, corrupt data might be the reason behind "cannot start outlook cannot open the Outlook window". You can repair it with the help of the Inbox Repair Tool- Scanpst.exe.
Follow the steps mentioned below to Repair PST File
Firstly, In Outlook 2016, open:
C:\Program Files (x86)\Microsoft Office\root\Office16
After that, find ScanPST.exe and run it.
Browse the file you want to repair and then click on the mentioned "start" button.
After finishing the scanning process, click on the "Repair button"
If you want to create a backup of the files, then tick on the checkbox mentioned before "Make a backup of scanned file before repairing".You can also use Kernel for repairing.
Solution 4: Revise Navigation Pane:
The navigation pane is the leftmost pane in MS Outlook, it contains all the Outlook data files and folders with icons like calendar, contacts and many more. Resetting it can solve the issue you are facing. To reset the navigation pane follow the steps given below:
Press Windows key + R, to open the Run dialogue.
Type "Outlook.exe /resetnavpane" on the dialogue box and press enter.
Check if Outlook opens normally after running this command. This might help you in solving the issue "cannot start outlook the set of folders cannot be opened". In some cases, the error occurs due to a corrupt file or some malicious activities. That's why make sure you installed antivirus in your system.
If you are still not able to get rid of "cannot start Microsoft outlook" then you can reach out to EmailsFix.com for more help and clarification from our experts but we don't think you will need it.
Also, find here a complete guide to fix more issues/errors such as How to Insert Picture in Outlook and How to Set Out of Office in Outlook?. The steps are well-described and you will be able to follow them without any problem. With us, you get guaranteed solutions to fix all the types of errors or issues under a single roof.