Outlook 2016 Reminders Not Popping Up In Front
---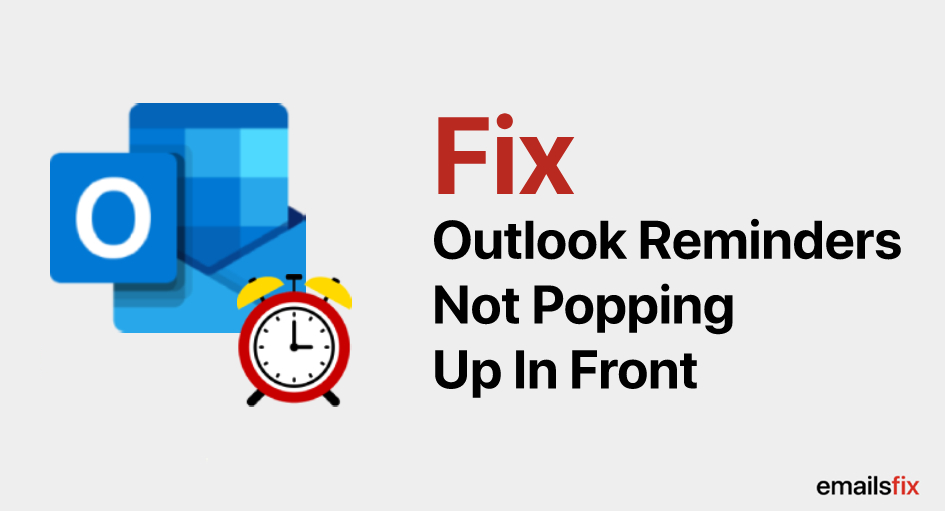 Outlook is a personal information manager from Microsoft which provides features like email, calendar, contact and more all in one place. You can send and receive emails, manage your task, store names and numbers of your contacts and manage your calendar. It has a very strong structured security system that you can trust. It protects your confidential information without getting in the way of your work.
There have been issues with the Outlook 2016. The Outlook reminders not popping up on many devices. It is a common problem that can occur if you haven't turned on the option to display reminders in the Outlook user interface. First check if your display reminder is turned on or not, if it is and still Outlook reminders are not popping up then something else is interfering with Outlook's working.
If Your Outlook 2016 Reminders Are Not Popping Up In Front Or Anywhere On The Screen:-
Check if the reminders are being managed by a Group Policy. When a feature is handled by Group Policy the reminder option is turned off in the user interface by default and you cannot change it.
If Group Policy is not managing the reminders then try the following steps to solve the problem of Microsoft Outlook 2016 reminders not popping up in front.
Go to the File tab on Top left corner and click on Options.
Select the Advanced option from the dialog box
Go to Reminders section and select Show reminders.
Click the OK button to finalize the changes made.
If the reminders folder is corrupted or damaged, Outlook reminders will not pop up. To clear them and regenerate with the following method:
Close the Microsoft Outlook process running on your system.
Press Window+R keys to open the run dialog box.
Type the command: outlook.exe /cleanreminders.
This should open the Outlook to delete all reminders and then repair them.
If nothing of the above is helping, try the following and this should resolve the problem of Microsoft Outlook 2016 reminders not popping up in front.
Close Outlook application
Press the Windows + R keys to open the Run dialog box.
Type Regedit and press Enter. This should open the registry editor.
HKEY_CURRENT_USER\Software\Microsoft\Office\xx.0\Outlook\Options\Reminders
On the right pane, you will find the WindowsPos name. Right-click and delete it.
Restart Microsoft Outlook.
If your Outlook 2016 reminders not popping up in front, any of the above or any other such as Update for Office 2003 kB907417 Error 0x80096004 you will get here the perfect solution to fix them. Do not worry over it too much. Just apply these simple steps and the problem should be solved. For any help call outlook helpline @ 1-800-289-5502